October 17, 2007
I've been really bad at updating the site since the new KFDI show. Kellie is administrating our pages at kfdi.com. Most of our efforts are there for now.
August 13, 2007
Two weeks on air at KFDI - and we're havin' a blast. Attended Neal McCoy concert at the Cotillion Saturday night with a table of KFDI listeners. Yes, I ended up buyin some drinks. Wichitans as a rule seem to be so outgoing, that after a few minutes, it's like we're old long lost friends. I didn't know what to expect at the concert, but dare I say, It was the most fun I've had in 10 years. McCoy played everything from disco, to Grand Funk & Bad Company. He held 2000 in the palm of his hand. Odd are, we'll see Merle Haggard this Thursday at the same venue. Man, that'll be history on stage. I'm gonna start an online photo gallery of Bri with the stars of Country music. Watch for it.
August 3, 2007
It's been a busy week - dare I say the busiest week I've ever had. One week under our belts at Today's KFDI 101.3 and we're beginning to feel at home. The calls and e-mail have been nothing but encouraging. Wichita is a fantastic place - HOT & HUMID - but fantastic. More when I have time to breathe.
July 25, 2007

Getting close to the Wichita debut of "Mornings with Brian and Kellie" on FM 101.3 KFDI/Wichita. I already knocked out three hours last Sunday, and I'm on solo this Sunday Noon to 3 to work out the kinks. I've already received calls and mail from KFDI regulars welcoming me into the fray. This is a special audience, and I'll treat them that way. I can't say enough about Journal Broadcasting and the Wichita Operations. What a unique collection of professionals.
July 17, 2007

It's happened all so fast. We sold the Springfield house in one week, and have purchased a home in Wichita already. Our furniture arrives in less than 2 weeks. We're in temporary housing until then - gearing up for the July 30 start. Listen at kfdi.com.
July 7, 2007

We didn't get to do a "last show." We will get to say goodbye to Springfield - thanks to our competitors all those years.

As of now, we'll appear on WYMG 100.5FM with Max & Liz at 7am Wednesday July 11. About 7:40 that same day, we'll appear with Bob Murray on WTAX 1240AM.

The next day, Thursday July 12, we'll appear with Sam Madonia on WFMB 1450AM in the 7am hour. I'm led to believe we'll take calls on that show.

I sincerely thank my fellow broadcasters for the opportunity.
July 3, 2007

Brian and Kellie will be back on the radio beginning Monday, July 30th. For Springfield listeners, you will need a computer to hear us.

We are excited to announce we have accepted the position of morning show personalities on Journal Broadcast Group's KFDI-FM (kfdi.com) Wichita, Kansas. Journal Broadcast Group, headquartered in Milwaukee WI, owns and operates 36 radio stations and nine television stations in 12 states.

It was a tough decision to move away from our family and friends here in Springfield. We explored all the radio options here and even opportunities outside of broadcasting in our quest to stay local. Our phone rang with offers all across the country. Frankly, we turned down many because the fit wasn't quite right. When Wichita called, we visited the city, and found a perfect fit.

We want to express thanks to the hundreds of you who e-mailed us. Thanks to those of you who introduced yourselves as we were out and about. Literally each time we left the house, we were recognized and people expressed their support. We were stopped in the grocery store, at restaurants, the mall, gas stations and the dry cleaner. We were approached at the hardware store and at the movies. We tried to explain what was going on to the mailman, people inside drive-up windows and the FedEx lady at our front door. It makes us feel good to know we touched your lives. 15 years waking up a city is quite a feat, but we're not quite finished. We only hope that Wichita opens it's arms to us the way you have all these years.

May 22, 2007

Check out the Briblog comments. It's a place to leave messages the whole world can see. Click above or the button left.
April 15, 2007

Hello prospective employers. Judging from site traffic, most of you are browsing this site. Brian & Kellie are still passionate about this business. We're encouraged by all the interest. Complete resume & references available by e-mail at pierceshow@yahoo.com. Custom audio available too, but feel free to browse the site audio here, through the archive link bottom left.
March 13, 2007

We still get mail each day from those of you who've had your morning routine interrupted. Click the link to the left to mail B & K - the response keeps us pumped up. Just know - we're alive and well and amongst you every day here in the Capital City. When we find a transmitter, we'll let ya know here.
March 2, 2007
Funny thing is, we're still doin' a show. You just can't hear it. B & K entertain ourselves all day long. Our sense of humor is so identical, we just crack each up each other all day long. If you call, we'll just lay the phone down and - VIOLA - a show!
February 26, 2007

Good Lord I have too many domains. Now we have brianandkellie.com too. It's a mirror of this site for now. This will be the place for any news - when there IS news. Check out our MYspace pages - and thanks for the support. We read all the posts on the blog. I've said this on the air, you are the best group of people in the world.
I have a guestbook on this site too. The button is on the left.
February 24, 2007

Show? What show? Who the heck has a show? If you have a show, that makes you different than me.

Mail me at: pierceshow@yahoo.com
February 12, 2007
If ya wanna see Bri @ the Obama deal Saturday, go to www.youtube.com - and search "Barackapalooza!" Kellie's in the early stages of figuring out the TV thing.

January 30, 2007
I have ANOTHER DOMAIN. I'm set to kick off 99clicks.com.
This will be a simple collection of links to super cool stuff on the web. I spend so much time sifting through tons of stuff every day, I'll now have a place to share the best links. Tech & Software, Video, Audio, News, Gossip. EVERYTHING all in one place. The site is being built as we speak - so check what's there so far @ 99clicks.com.



January 9, 2007
Made it thru the holidaze. Nice to be back. It's hard to sit around the house - I nod off easily. FYI - we have an "inside source" for more Fighting Illinois Basketball tickets. Listen to win all season long. Now, all we gotta do is score Bears playoff tickets. For the love of God, take your tree down.
December 23, 2006

Merry Christmas. Thanks for making my 15th year at WNNS memorable. We work hard on the show and your kind words and feedback mean the world to us. We will spend the holiday with our families and return to your morning routine in the new year. All the best.
December 14, 2006
Frankly, I always thought MYSPACE was for 13 year old girls and didn't pay it much attention. For fun, a year ago, I created a MYSPACE page and that was that. It sat there and I collected a total of 6 friends - mostly my own kids. About 2 weeks ago, I put a link on these pages (The button to the left) - and my "friends" zoomed to over 100. Wow. You guys are really into MYSPACE. So, I'm a little slow on the uptake! Click the button to the left - BRISPACE - and let me hear from you.
December 8, 2006

TMX Elmo week. Play Christmas WHEEL OF WORRY all week and qualify to win Elmo on Friday! Listen - 7am hour.

**Check my MYSPACE page with link at left. I'm the last person in America doing this - I know I'm late. I already have many friends and I'll add you too. William Shatner is already a friend.
November 6, 2006
My other domain AMJOCK.COM is off the ground. This will be a collection of stories on the travels of a career radio guy. Someday, I'll print the pages - and voila - MY BOOK. AMJOCK.COM. Check it out from time to time.
October 30, 2006
Halloween is ON at my house tomorrow 5-8pm. The Brian & Kellie "HALLOWEEN BOO-FET" - with Burgers, Dogs & Chicken sandwiches for all who show. You're invited - IF YOU KNOW WHERE I LIVE. I'm still wary of broadcasting my home address. Still, I'll do 300 sandwiches.

I just bought more disc-space & bandwidth for the website. This means more pix & audio soon. I have aircheck collectors who are asking for this stuff. It is kinda fun to listen to radio from 20-25 years ago.

Nice job Cards.
September 25, 2006
Laura in Taylorville named her newborn Chihuahuas' Brian & Kellie. We've had cats, a horse, children & cars named after us - but these are the first Chihuahuas. Which one is Brian and which is Kellie? (Scroll down)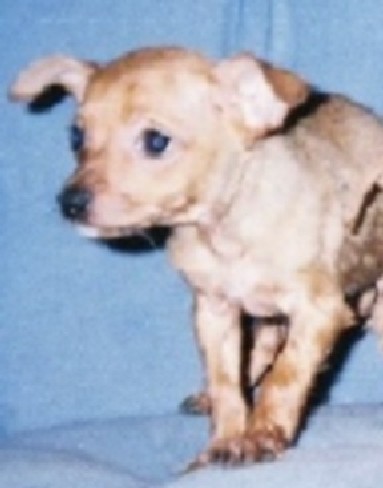 (The Chihuahua with the evil red eyes is Kellie.)
August 25, 2006
I have been lax on updating this particular page. Instead, I've concentrated mostly on updating the blog. It's amazing that I get nearly 1000 hits a day there - from all around the world. I read often that - with that traffic, I could make a couple of bucks. Money? Uhhhh - maybe later. I'm not ready to clutter my pages with links to advertisers.

The radio show is well, but Brian & Kellie are not. We both have that "throat crud" that many of you have. We've had it before and we lived. I imagine we'll live through this again.

Thanks for the mail, the hits and the calls. As a bunch, this audience is the best group in the world. It's still a joy to be the "voice of your morning."

Win tickets to the SPRINGFIELD MILE Labor day this week.
August 2, 2006
Brian and Kellie will have more tickets to do more things at the State Fair - than anyone! We have conceret tix for all the big shows - race tix - even mega-passes. Listen all next week 6-9am to win big.
Thanks for the interest in the new pix & audio. (I can see web stats.) MS Explorer is best with the pix. Place your cursor on the pic and the description pops up.
July 23, 2006
New audio and more new pix added. Thanks for the hits.
July, 6, 2006

I've added new audio to the site. Click to the left and hear Bri 20 - even 30 years ago. Many new great links on the front page too.
July 3, 2006
Wow. I got most of the site back up. Remember, it's HEBREW NATIONAL HOT DOGS - the "Official" Hot Dog of Brian & Kellie for the 4th of July. See ya downtown tomorrow for the fireworks. Spread the word on the internet stream. Those who complain they can't pick us up inside steel buildings can no longer complain. If you have technical listening issues at work - it might be your individual company firewall. Not any complaints yet. Look for more audio & pics soon.
July 1, 2006
I goofed up and deleted about 75% of this website this morning. AAAAAHHH. I'm building it again from scratch. Damn!
The only news is now I have two domains.
www.pierceshow.com
&
www.amjock.com
. The latter is simply a mirror for the time being. I may do something with it later.