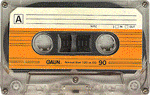 Below, find soundclips from my years on the air. The sound quality varies, as most were recorded directly off the air onto cassettes. I will add to the archive as I find time to digitize the literally thousands of cassettes I have. I even have airchecks on reels, that are so old they won't play. Thanks for the feedback from old listeners over the years and the collectors who've stumbled on this site.

WEZB New Orleans 1986 Mardi Gras
WEZB New Orleans Dec. 31, 2005
WEZB 1986 Get that Bag off yo Head
Satellite Music Network Dallas 1990
WNNS Parody of Local Media 1992
WNNS Man I Feel Like a Mother 1995
The Voice of God September 11, 2001
Worry about Christmas 1 WNNS 2004
Best Bush Quotes Ever WNNS 2006
Old Bond Powder 2006 (Never Aired)
Bri becomes Governor WNNS 2007
Worry about Christmas 2 - KFDI 2007
Mama Tried - Mothers Mix KFDI 2008
Brian & Kellie AM drive KFDI 2008
In 1977 while at Great America/Chicago, I happened upon WLS radio performing a remote broadcast. It was about 8pm, and John Landecker was on the air. He announced that he was going to present his signature bit, "Boogie Check" in minutes - live - using people on hand at the park. I stood around for a few minutes thinking what I might do if he chose me to be on the air. I was a young broadcaster at the time, and was thrilled at the chance to appear on WLS. Landecker chose me and I appeared on air. It's made for a great radio story over the years. This was the only time I appeared on WLS - until Memorial Day 2007.

WLS that day presented a "Radio Rewind", featuring the jocks and music from all those years ago. John Landecker was on the air and once again announced he was reviving "Boogie Check." Long story short, I called Landecker and found myself on WLS a second time. What did I do? The EXACT same bit I did with him in 1977. It seems fitting that in my 2 WLS appearances, I perform the same bit. He found it amusing this time too.

Click the logo below to hear this second WLS appearance - that was almost identical to the first.